Before you judge us and think we like the shows listed, read ahead.
Guys if you have ever been in a relationship (and we assume you have), there has been a time when instead of watching the big game, you have to watch something your significant other wants to watch. It is an important treaty of sorts to keep home life happy and it is always good to store up some bonus points for that next stupid thing you do.
They are referred to as chick shows. You know the ones we mean. They fill all the gaps on the TV schedule where sports and real shows can't fill. To make life easier on us, most of these TV shows play along, knowing full well that men have to watch them as well, so they fill them with hot women.
So before you throw a fit the next time you are told you can't watch sports or stuff blowing up and have to watch a female drama, keep in mind it might be one of the following series that has some definite eye candy. You can even pretend to enjoy it but please, if you PVR it while watching sports, keep that to yourself.
Here are 10 current television shows that have hotties worth watching and the photos to match.
Gossip Girl - Personal fave of Kellex from The Sports Dollar.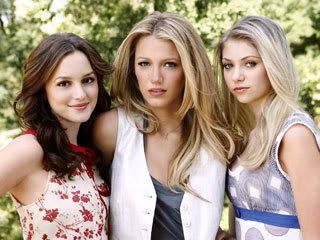 90210 - Jimmy Traina has been known to watch.

Dancing With The Stars - Bryan of GrandmasterB puts the kids to bed first.
So You Think You Can Dance? - It might not be sports but I know NESW Sports checks the video clips.
Grey's Anatomy - We bet Jeff Buzz has to watch this one.
Desperate Housewives - We wonder if Mike from Steady Burn will admit to watching?
Fashion Television - It is a Canadian show but that does not stop Doug from On205th from watching.
The Ghost Whisperer - Chris from Blog of Hilarity probably has stayed home a few Friday nights.
America's Next Top Model - Don Chavez for sure has seen a few episodes and liked it.
Everyday Italian - Finally I know my good friend G makes it a point of being home for this.
Is there a show you watch with your lady that you secretly don't mind? We would love to hear it.
Other links that fit the bill
Hot prime time moms thanks to Uncoached
Popularity: 12% [?]
If you enjoyed this post, make sure you subscribe to my RSS feed!
More Cuzoogle
Are you a new
dad
, old dad, soon to be dad or just wish you were a dad? Check out
Like A Dad
, a blog that touches on doing parenting....like a dad.