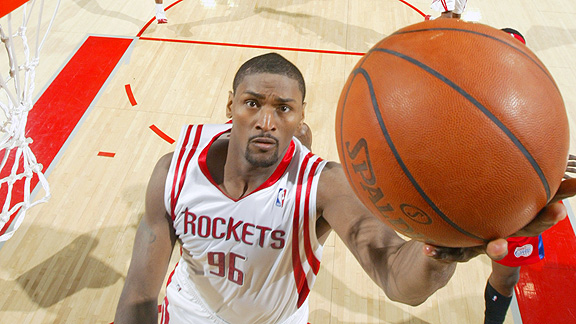 Toronto Raptors at Houston Rockets
Another day, another loss, I mean game in Texas. Tonight the Raps play the Rockets and we can't come up with one reason to think Toronto can win this one. Despite being an ongoing drama, with injuries and unhappy campers, the Rockets still figure out a way to win more than they lose. That is saying something considering they are in one of the tougher divisions in the NBA.
No T-Mac but they do have Yao in the middle. The one positive is how the Raps put a beat down on the Rockets when they played in Toronto earlier this season. Can Joey G do another wonder job on the giant Chinese monster?
We will try to tune in but lately we have had little interest in watching the boys in Red or Black.
Here is everything you need to know for tonight's game.
The Goods
The Rockets look to extend a nine-game home winning streak and avoid being swept in their season series with the lowly Raptors on Tuesday night.
The Rockets have outscored opponents by an average of 14.5 points during the nine-game winning streak at home, where they are 24-6 on the season.
The Raptors, meanwhile, have lost their three road games since the All-Star break, allowing an average of 32.3 points in the first 12 minutes.
This will be Toronto's last road game against a Western Conference team this season. The Raptors have gone 3-11 in such contests and have the East's worst overall record against teams in the West, going 9-17.
Houston is just 14-12 against teams from the East.
For Bettors
The over is 7-0 in Rockets last 7 Tuesday games.
The over is 8-1 in Rockets last 9 games following a SU win of more than 10 points.
The under is 7-1 in Rockets last 8 games vs. a team with a winning % below .400.
The under is 4-1 in Rockets last 5 vs. NBA Atlantic.
The under is 8-2 in Rockets last 10 home games vs. a team with a road winning % of less than .400.
Prediction
Almost bang on as Matt Devlin would say about the game the other night in Dallas. So we will try again. Houston wins 97-86.
Popularity: 5% [?]
If you enjoyed this post, make sure you subscribe to my RSS feed!
More Cuzoogle
Are you a new
dad
, old dad, soon to be dad or just wish you were a dad? Check out
Like A Dad
, a blog that touches on doing parenting....like a dad.