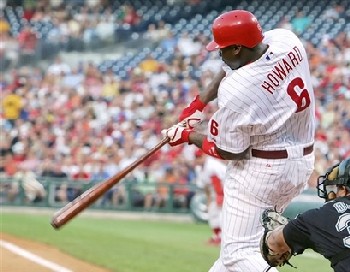 Technically the 2009 MLB season started last night but for most teams and fans, the action starts today. Any bets on who is going to hit the most home runs this year? Will there be records broken or just an average season of dingers? To help you out here are some of the favorites to hit more than anyone else thanks to the fine people at bodog.
Ryan Howard +300
Ryan Braun +1200
Albert Pujols +1200
Alex Rodriguez +1200
Alfonso Soriano +1500
Prince Fielder +1500
Evan Longoria +1500
Adam Dunn +1800
Miguel Cabrera +2000
Josh Hamilton +2000
Mark Teixeira +2500
Got a favorite in mind?
Popularity: 2% [?]
If you enjoyed this post, make sure you subscribe to my RSS feed!
More Cuzoogle
Are you a new
dad
, old dad, soon to be dad or just wish you were a dad? Check out
Like A Dad
, a blog that touches on doing parenting....like a dad.