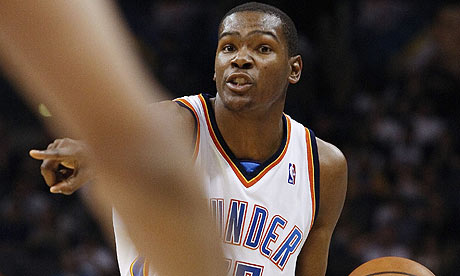 Now that the major players in the free agent market have landed, NBA books are firing out lines for the upcoming season.
For those into online sports betting, laying down cash on who will win the NBA MVP is always fun. One has to think LeBron and D-Wade will cancel each other out, so that means it will be down to KD or Kobe. Unless someone outside the box steps up and leads their team to the best record, that is how we see it.
Let the live betting begin for the 2010/2011 NBA Most Valuable Player award.
Player and odds
Kobe Bryant   +200
Kevin Durant   +300
LeBron James   +400
Dwight Howard   +600
Dwyane Wade   +800
Carmelo Anthony   +1200
Chris Paul   +1500
Dirk Nowitzki   +1500
Derrick Rose   +1800
Chris Bosh   +2500
Amare Stoudemire   +3000
Steve Nash   +3000
Pau Gasol   +3500
Deron Williams   +5000
Field   +1000
Share your pick with us and please don't say Chris Bosh.
Popularity: 4% [?]
If you enjoyed this post, make sure you subscribe to my RSS feed!
More Cuzoogle
Are you a new
dad
, old dad, soon to be dad or just wish you were a dad? Check out
Like A Dad
, a blog that touches on doing parenting....like a dad.