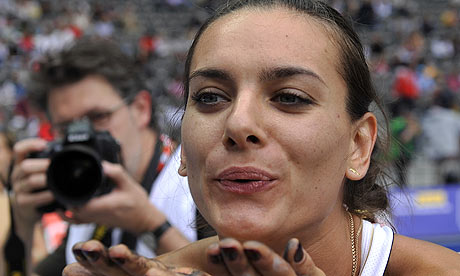 If you want to get a glimpse of one of the outstanding superstars of the last decade, pole-vaulter, Yelena Isinbayeva, then make sure that you do not miss her attempt at a third Olympic gold medal, as it may well be her swansong.
The beautiful Russian with the captivating eyes is getting fed up with the pressure of being at the top for so long, and it is noticeable, in that a degree of inconsistency is creeping into her performances these days.
Isinbayeva showed that the ability is still there when setting a new indoor world record of 5 metres 1 centimetre in Stockholm, in February. That was her first record since 2009, but was not the springboard for a return to form, unfortunately; just recently, at the last Diamond League meeting in Monaco, she even failed to clear 4.70 metres.
The Isinbayeva of old would have cleared that in her sleep; in her case, much in the way that all eyes are on Usain Bolt when he runs, anything less than perfection is seen as failure.
The days of clearing 5.6 metres, as she did when setting a world outdoor record in 2009, are long gone; so, rather than plug on, retirement beckons.
Meanwhile, Russia will continue to churn out above-average athletics stars, and indeed the next wave is already on the way.
A 109-strong squad, three more than in Beijing, will be at London 2012, with hopes pinned mainly on the country's women.
Names to watch out for include rising track star, Ekaterina Poistogova, who will look to impress in the 1500m, and, of course, it must not be forgotten that the Russian women's 4 x 100 and 4 x 400 relay teams captured gold and silver in both events in Beijing.
Russian high jump champion, Irina Gordeeva, also arrives full of confidence, so as we prepare to say farewell to some familiar faces, a few more new ones will be hitting the headlines during London 2012; that is for sure.
People thinking of gambling on London 2012 should check out the Betfair Football and Olympics tennis betting websites, for all the latest odds on two of the world's most popular sports.
Popularity: 1% [?]
If you enjoyed this post, make sure you subscribe to my RSS feed!
More Cuzoogle
Are you a new
dad
, old dad, soon to be dad or just wish you were a dad? Check out
Like A Dad
, a blog that touches on doing parenting....like a dad.